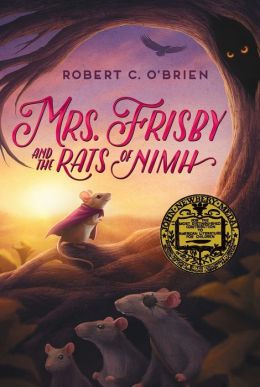 It is a real joy to revisit books you loved when you were a child, and an even greater joy to discover that they are not just as good as you remember, but even better. That's how I felt on rereading this classic story and the 1972 winner of the Newbery Medal for children's literature.
The rats of the title live under a rosebush on a farm and to all the surrounding woodland creatures they are mysterious and dangerous. You didn't mess with the rats. So imagine Mrs Frisby's surprise when she seeks advice for a potentially life-threatening problem and the two wisest people she knows advise her to speak to the rats.
The writing in this book is the clear winner as it immediately draws you in and the characters become your closest friends from the very first page. There is adventure, action and cunning throughout the book to keep even the most fidgety of youngsters thoroughly entertained, and the story of how the rats of Nimh came to be living on the farm and the connection between them and the Frisby family is a great tale within the tale.
This book will appeal to both girls and boys, is extremely well-written, and the Newbery Medal was very well-deserved.
Title:
Mrs Frisby and the Rats of Nimh
Author: Robert C. O'Brien
Published: 1971
Publisher: Aladdin Books
ISBN: 9780689710681
Target age group: 8 - 13 yrs